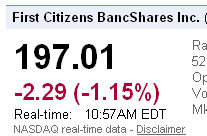 NASDAQ:FCNCA – First Citizens Bank Shares Down 1.2%
First Citizens Banks (NASDAQ:FCNCA) shares have been steady most of this week, with the exception of the spike up $207 per share on in Tuesday morning trading. Since then, however, First Citizens Banks shares have been sliding.
First Citizens Bank shares are currently down 1.2% for today, or 2.29 points trading at 197.01 on Thursday May 19th, 2010.
MySmartTrend.com says they are
…watching shares of First Citizens Bank for a cross of the next upside pivot targets of $207.27 and $211.22. Also, the shares are currently trading above the 50-day moving average of $203.85 and above the 200-day moving average of $170.14. SmarTrend, our proprietary pattern recognition system, alerted subscribers to buy shares of First Citizens BancShares on December 14, 2009 at $161.36. Since the call, the stock has risen 27.3%.
According to Google Finance:
First Citizens BancShares, Inc. (BancShares) is a financial holding company with two banking subsidiaries: First-Citizens Bank & Trust Company (FCB), which operates branches in North Carolina, Virginia, West Virginia, Maryland, Tennessee, California, Washington and Washington, DC and IronStone Bank (ISB), a federally-chartered thrift institution with branch offices in Florida, Georgia, Texas, Arizona, California, New Mexico, Colorado, Oregon, Washington, Missouri, Oklahoma and Kansas. FCB and ISB offer full-service banking services designed to meet the needs of retail and commercial customers in the markets in which they operate.