NASDAQ:AAPL – Apple Stock Off 6% for Week, iPad Supply Shortage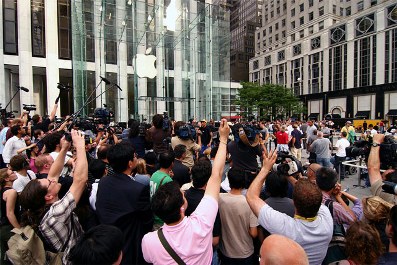 As we approach the market's close for this week, Apple (NASDAQ:AAPL) shares are down nearly 6% or -14.78 points. Apple stock prices had a good jump early Tuesday morning, but then headed down throughout the rest of the week and Apple shares were not able to recover.
Apple Struggles with iPad Supply
According to Apple Insider, calls to 50 Apple retail stores throughout the US revealed that the iPad 3G remains completely sold out, even though we are now weeks after it's launch. Apple stock analyst Gene Munster with Piper Jaffray said his team contacted representatives at 50 Apple retail stores and found that 74 percent of them were sold out of all models of the iPad, with the Wi-Fi model available in 26 percent of stores, and the 3G version sold out.
The backlash of limited iPad and iPad 3G supply
One of the ways Apple is dealing with the iPad shortage is by offering customers the option to be placed on a "Notify Me" waiting list, and the Apple retail store would then hold that customer's iPad for 24 hours after it arrived.
One Apple store representative told Munster that customers who enlist in the in-store reservation system typically wait 4 to 7 days to receive an iPad. That's better than the 7 to 10 day wait found via Apple's online store.
Regardless of the time a customer has to wait to get their iPad, the problem with Apple's iPad supply problem might actually start affecting Apple share prices. Limited supply of iPads and iPad 3G's could affect the sales projections that investors were anticipating, and in turn affect the sales forecast.
Apple representatives admit they were caught off guard by the demand for the iPad devices. And because of the iPad supply problems, Apple had to actually delay the international release of the iPad.
iPad International Release Date 5/28
So we are now about 7 days away from the international release date for the iPad and iPad 3G. And if things go anything close to what we've seen here in the US, then Apple's supply issues – and perhaps at some point Apple's stock prices – could start having a negative impact on Apple's ability to expand their product.
But then again, we are talking about Apple here, so all of this "negative" talk could be way off base.