Google is celebrating the 30th birthday of the all time classic arcade game Pac Man. I remember rushing to the local arcade with the change in my hands anxious to get the tokens needed to fire up some Pac Man. And I used to love the old style joy stick of the big, old arcade terminal.
Pacman has found a way to live, and in fact thrive and prosper, in the fast changing world of technology. As technology advanced, Pacman would be offered on almost every single gaming device released – from Nintendo to PS3. And even with the age of mobile devices like the iPhone, Pacman continues to live on and gain exposure.
The Pacman game on the iPhone has a very interesting little twist to the classical way you play Pacman. With Pacman for the iPhone, you can actually select to control the muncher by simply tilting your iPhone. This makes playing Pacman unlike anything you've ever done before.
And now I'm sure there is also Pacman for the iPad. I can say for sure since I don't own an iPad (yet), but I'm that Pacman for the iPad is out there. It would be really cool if you select the "tilt" option with the iPad, then you'd be controlling the muncher much like you'd be steering a car with a steering wheel.
Google's Pacman Logo (Pacman Google Doodle)
Google is celebrating the 30th anniversary (30th birthday) of Pacman with a custom Google Doodle for Pacman.
First interactive Google Doodle Logo – Pacman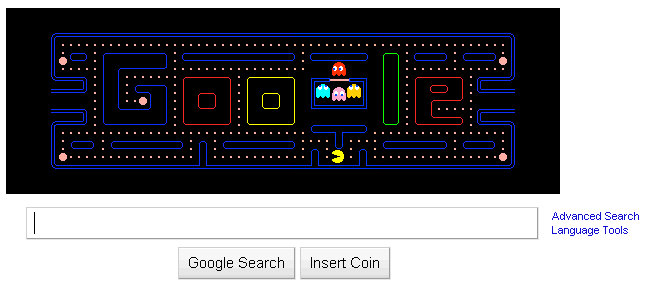 Did you know that you can actually play pacman in the Google logo?
Just click the Google Pacman logo and start playing pacman – but you'll be navigating around the letter's in the Google logo.
Pretty cool stuff.