Google Pacman 30th Anniversary Logo, Day 2 – Play Pacman on Google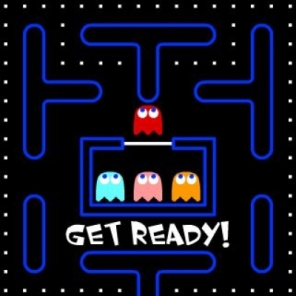 And so it continues! Google's Pacman Logo is up for a 2nd day as Google celebrates Pacman's 30th birthday by not only creating a Google Pacman Google Doodle logo, but by turning the Google Pacman Logo into a live game of Pacman that you can actually play.
Play 2 Players on Google Pacman
Here's something that you may not have noticed. Where the "I'm Feeling Lucky" button used to be is not a button called "Insert Coin". If you push the "Insert Coin" button once, the game will launch. If you push the "Insert Coin" button a second time, then Ms. Pacman will appear and you can now play simultaneously with two players!
Google Pacman Logo Not Using Flash
The other cool part of the Google Pacman Logo is that it is not using flash – only Javascript, HTML and CSS. So the Google Pacman Logo is something that even Steve Jobs would be proud of.
And since the Google Pacman Logo is not using Flash – this must mean that you can play the Google Pacman Game on your iPhone, iPod Touch, and iPad.
Has anyone played the Google Pacman Logo game on their iPad?
How long will Google Celebrate the Pacman 30th anniversary?
There have been several instances in the past where Google carried on for days with a Google Logo celebration.
For example, Google celebrated Sesame Stree's 40th Anniversary with 7 days of Google logos (see all 7 Sesame Street Google Logos).
Also, for this year's 2010 Winter Olympics, Google celebrated the Olympic games with a new Google Logo for each day. During the 2010 Winter Olympics, Google decided to highlight one specific winter Olympic game with their Google Logo. And the day 2 Winter Olympic Google Logo actually saw 2 different logos because of the Georgian luger Nodar Kumaritashvili incident where he died during a luge practice run.
I covered all 18 days (I think it was 18 days) of Google's 2010 Winter Olympic Logos.
So how long exactly Google will continue on with the Pacman 30th Anniversary Logo is unknown at the moment, but since the Pacman Google Logo is the same today as it was yesterday, then I would guess that it will not be up for much longer. Perhaps through the weekend…
What do you think?
So have you played the Google Logo Pacman game yet?
Have you found any little secret golden nuggets or tricks that Google has placed in the Google Pacman game that aren't obvious initially?