Play Google Pacman on your iPhone, iPad, & iPod Touch (No Flash)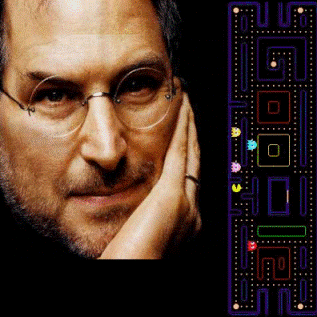 Here's something that Steve Jobs should be proud of. The new Google Pacman Logo game is not built in flash which means you can play it on your iPhone, iPad, and / or your iPod Touch.
I just pulled up Google on my iPhone and of course I had to first switch to the "classic" Google view on my iPhone Safari browser.
But once I switch over to the Google classic view on my iPhone, the Google Pacman logo game fired right up.
I did not get any sound however – so maybe I did something wrong, but I couldn't get sound to come through on my iPhone while playing the Google Logo Pacman game.
And this "no sound" issue might also be isolated only to the iPhone. Since I don't have an iPad or an iPod Touch, I can see what happens with the sound when playing the Google Pacman game.
Google Pacman Logo is Javascript, HTML, and CSS (No Flash)
In a move that even Steve Jobs would be proud of, Google built the Pacman Logo out of Javascript, HTML, and CSS – no flash anywhere to be found.
Steve Jobs doesn't like flash, as was obvious with the Steve Jobs 'Thoughts on Flash' letter.
So do you think that even Steve Jobs might have been proud of the Google Pacman Logo?