Paul Gray, Slipknot Bassist, Found Dead (Unmasked Image)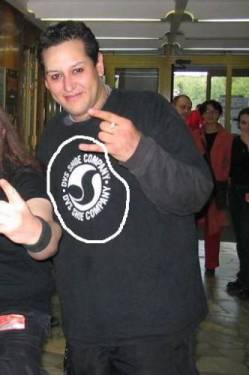 Slipknot bassist Paul Gray was found dead in his hotel room in Des Moines, Iowa on Monday morning. Paul Gray was discovered by the hotel staff personnel from the TownePlace Suites, according to the Urbandale Police Department.
Paul Gray was 38 years old.
An autopsy, including toxicology tests, will be performed Tuesday, Disney said.
Gray was arrested in Iowa in 2003 on drug possession charges when police found small amounts of marijuana, two syringes and a substance that field-tested positive for cocaine after he was involved in a wreck with another motorist.
Slipknot won a Grammy in 2006 for best metal performance for "Before I Forget".
Slipknot's self-titled debut album went platinum in 2000. Its fourth album, "All Hope is Gone," spent 69 weeks on Billboard's Top 200 charts, debuting at No. 1 its first week in 2008.
According to some preliminary reports that are coming out, there was no foul play in the death and discovery of Paul Gray's body.
So are you a Slipknot fan?
Are you one of the Slipknot "Maggots", as fans of Slipknot are famously called?