Android Powered HTC EVO 4G – Here is the official list of the current, and future, list of Sprint 4G coverage areas ans cities.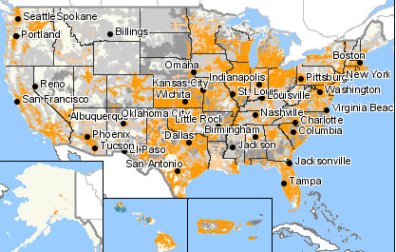 So have you visited your local Radio Shack or Best Buy yet to pre-order your HTC EVO 4G? The HTC EVO 4G is supposedly the hottest new mobile device to hit the market. And when it says "4G", it is actually referring to the mobile web browser – not a "4th generation" version of the device.
If you pre-ordered your HTC EVO 4G already, then you might be wondering exactly where can you get this super fast 4G web browsing speed here in the United States!
I've gone through the official Sprint 4G coverage area web page and put together a nice, neat little list for your to see all the cities where Sprint currently offers 4G coverage.
Cities where Sprint currently has 4G coverage:
Atlanta, Georgia
Milledgeville, Georgia
Honolulu, Hawaii
Maui, Hawaii
Boise, Idaho
Chicago, Illinois
Baltimore, Maryland
Charlotte, North Carolina
Greensborough, North Carolina
Raleigh, North Carolina
Las Vegas, Nevada
Portland, Oregon
Salem, Oregon
Philadelphia, Pennsylvania
Lancaster, Pennsylvania
Harrisburg, Pennsylvania
Reading, Pennsylvania
York, Pennsylvania
Abilene, Texas
Amarillo, Texas
Austin, Texas
Corpus Christi, Texas
Dallas, Texas
Fort Worth, Texas
Houston, Texas
Kileen, Texas
Lubbock, Texas
Midland, Texas
Odessa, Texas
San Antonio, Texas
Temple, Texas
Waco, Texas
Wichita Falls, Texas
Bellingham, Washington
Kitsap, Washington
Seattle, Washington
Snohomish, Washington
Tacoma, Washington
Cities scheduled to receive Sprint's 4G network by end of 2010:
Cincinnati, Ohio
Cleveland, Ohio
Los Angeles, California
Miami, Florida
Pittsburgh, Pennsylvania
Salt Lake City, Utah
St. Louis, Missouri
Sprint 4G pricing:
From what I understand, if you purchase the HTC EVO 4G, you will be required to pay an additional $10 for th e4G coverage and data plan, regardless if you live in one of the cities listed above or not.