BP Oil Spill Live Feed, New Live Oil Spill Feed Bypasses BP Site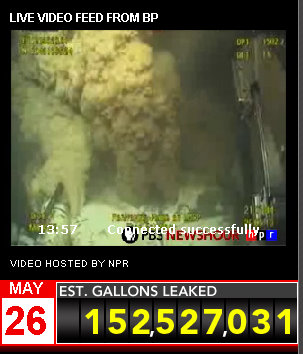 At around 11:30 am this morning (Wednesday, May 26th), BP cut off their live oil spill feed due to the launching of the procedure they called Top Kill.
Apparently, BP didn't want the public watching the procedure as it happened – in case things didn't go as planned and / or they wanted to avoid the press (and bloggers) critiquing something they have absolutely no idea about. So BP just cut off the live oil spill feed altogether.
New BP Oil Spill Live Feed Emerges
So somehow PBS has obtained a BP live feed of the oil spill and actually has put together an iFrame code that you can embed into your site to watch it live.
Here is the new live video feed, embedded into this article thanks to PBS.org:
For some reason this BP live oil spill feed looks totally different than the one that was streaming from BP's own live oil spill page early today (the one that BP cut off).
The one from the BP website looked like the petroleum was all shooting out of once pipe – like a firehouse shooting water.
The live oil spill feed above looks like the petroleum is shooting out of several different holes along the oil pipe.
So is it possible that the feed above is a different camera sitting at a different angle than the one showing on BP's website (or was showing on their website)?