Doodle 4 Google Winner: Makenzie Melton's Rainforest Habitat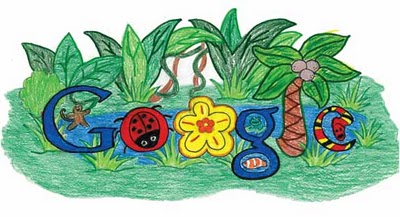 One of the coolest times of the year for young Googler's is May where Google announces their "Doogle 4 Google" winners.  The Doodle 4 Google competition is where kids from all over the world submit their Google Doodle – a modified Google logo – and the Doodle's are judged on various levels.
Typically the winners of the Doodle 4 Google competition create a Google logo that is not only aesthetically pleasing, but also has a great "societal" meaning behind it such as world peace, saving the environment, advancing technology and exploration, etc…
Makenzie Melton's 'Rainforest Habitat'
This year's Doodle 4 Google winner is Makenzie Melton, a third grader at El Dorado Springs R-2 Schools in El Dorado Springs, Missouri. Her winning design, entitled "Rainforest Habitat," expressed her concern that "the rainforest is in danger and it is not fair to the plants and animals." Makenzie's design triumphed over more than 33,000 student submissions from all over the country. Makenzie's colored-pencil creation beautifully embodied this year's theme.
Makenzie received a $15,000 college scholarship, a netbook computer and a $25,000 technology grant for a new computer lab at her school. Her doodle will also be featured on the Google.com homepage tomorrow, May 27, for millions of people to enjoy all across the country.
Learn more and see all the submissions at the Doodle 4 Google site:
If you are interested in learning more about Google's annual Doodle 4 Google competition, and to see the rest of the 2010 Google Doodle's, head on over to Google's official Doodle 4 Google site:
http://www.google.com/doodle4google/