Dell Streak comes to the US in late summer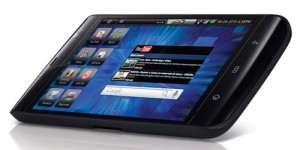 In a press release a couple of day's ago Dell announced the Dell Streak a 5-inch Android-based tablet. The Dell Streak will have a 5-inch touch screen, a 1Ghz processor, a 5.0 MP camera with dual LED flash, 2 GB of internal storage, Micro SD slot for expandable memory up to 32GB,Wi-Fi, GPS, Bluetooth. The Dell Streak 5 will feature Adobe Flash 10.1, which will allow people to view Flash based websites & enjoy playing Flash based games. The device will have integrated social media applications for Twitter, Facebook & YouTube.  And according the press release the device is expected to get Android 2.2 later this year.
It's nice to see Dell getting behind Android with this impressive device. From what I have read the Dell Streak could come to AT&T's network.Below is the full press release & a video showing off the devices features. So tell me what do you think of the Dell Streak ?
Dell streak tablet entices people to watch, surf, connect, listen, and play on 5" of power and portability
Date : 5/25/2010
Bracknell, United Kingdom
Streak to launch early June in the UK exclusively on O2
Available at O2 stores, O2.co.uk, The Carphone Warehouse and later next month at Dell.co.uk
U.S. availability to arrive later this summer
Today, Dell released plans for Streak, a 5-inch Android™-based Tablet designed to provide people the best "on-the-go" entertainment, social connection, and navigation experience. Early this June the Dell Streak will be available across the UK at O2 stores, O2.co.uk, The Carphone Warehouse, and later in the month at Dell.co.uk. Pricing and data plans for the UK will be announced by O2 ahead of availability. Later this summer, Dell plans to make Streak available in the U.S.
The Dell Streak is a compact and powerful companion for people who want to expand their ability to access their digital lives on the go, and realize tomorrow's technology today. The spacious 5-inch screen is ideal for experiencing thousands of Android Market™ widgets, games and applications, all without squinting or compromising portability. Built-in Wi-Fi, Bluetooth and available 3G connectivity brings easy access for downloading and listening to music, updating social networking status in real-time, and staying connected to friends and family through e-mail, text, IM, and voice calls.
On-the-go students, mobile professionals, and active families will find Streak's web-browsing capabilities as natural as a laptop. The 5-inch screen is large enough to present Web pages in their natural form, create a comfortable viewing experience, and make turn-by-turn navigation simple and safe. The Dell Streak leverages Qualcomm's Snapdragon™ solution with integrated 1GHz processor to combine basic functionality, performance, and benefits of a laptop in a pocket friendly size.
"The Dell Streak hits the sweet spot between traditional smartphones and larger-screen tablets," said Ron Garriques, president, Dell Communication Solutions Group. "Its unique size provides people new ways to enjoy, connect, and navigate their lives."
The Dell Streak was designed with the future in mind and will support over-the-air updates including platform upgrades, Adobe Flash 10.1 on Android™ 2.2 later this year, video chat applications and other software innovations.
Dell is a member of the Open Handset Alliance™ (OHA), a group of technology and mobile companies working together to accelerate innovation in mobility. Together, the OHA created Android, the first complete, open, and free mobile platform to provide people a richer, less expensive, and better mobile experience.
Key Features:
Integrated Google Maps™ with turn-by-turn navigation, street and satellite views
A full screen browsing experience with a 5-inch capacitive multi-touch WVGA display
Easily integrated social media apps: Twitter™, Facebook, YouTube
High resolution 5 MP camera, VGA front facing camera, removable battery, built-in Wi-Fi, 3G and Bluetooth connectivity options
2GB* of internal dedicated storage provides plenty of space to access and download Google Android Market's many options
Packaged with cushions made from 100 percent sustainable, compostable bamboo
Specifications:
Android platform complete with Android Market and Dell user interface enhancements
ARM-based Processor: Qualcomm's powerful and efficient Snapdragon chipset and software platform with integrated 1GHz processor
3G + WiFi + Bluetooth
UMTS / GPRS / EDGE class 12 GSM radio with link speeds of up to HSDPA 7.2 Mbps1 / HSDPA
5 MP autofocus camera with dual LED flash. Easy point, shoot, and uploads to YouTube, Flickr, Facebook and more
User accessible Micro SD expandable memory available up to 32 GB2. Store up to 42 movies2 or 32,000 photos2, or 16,000 songs2 with 32GB* Micro SD
Source: Dell