ESPN's MMA Live UFC 114 Weigh-In Show, UFC 114 Weigh Ins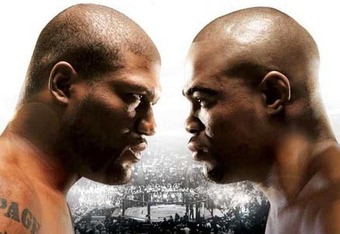 The only thing that's unfortunate about ESPN's MMA Live UFC 114 Weigh-In Show on YouTube is that the embed code has been disabled.  This doesn't make any sense to me because ESPN would be able to get so much more exposure and distribution if they would enable their embed code from YouTube.
Anyway, like I said this is only complaint I have about ESPN's MMA Live coverage show. The rest of the show is awesome.
ESPN does a phenomenal job covering the UFC 114 Weigh Ins and pre fight coverage.
WATCH ESPN'S MMA 114 UFC WEIGH IN SHOW HERE
One of the commenter's from the ESPN MMA UFC 114 Weigh In show said that "looking forward to when it says "500,000 views" i really want this show to become more popular. ppl r missing out."
From BleacherReport.com:
Rampage Jackson vs. Rashad Evans
This crowd is freaking out for the main event weigh ins.
Evans gets both cheered and booed. He weighs in at 206 lbs.
Rampage gets a huge ovation. And he's in shape too.
Looking very ready for his fight with Rashad. He could be in for a long night. He weighs in at 205 lbs.
Very intense stare-down between the fighters. This main event is going to be sweet. Apparently Rampage is going to make Evans dead. Figuratively, of course…