Amazing Live Video of BP Oil Spill Sealing Efforts (BP Oil Spill Live Feed)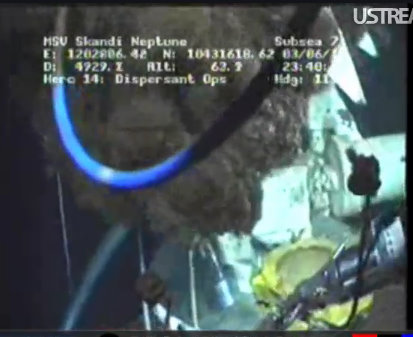 The live video of the BP oil spill is pretty amazing at the moment because it appears to be showing BP's new seal being placed over top of the gushing oil pipe. Early today, BP announced that the saw blade that was caught in the oil pipe had finally be fixed, and the pipe was cut so the seal can be moved into place.
Now, looking at the video, it appears that the seal is being maneuvered over the gushing BP oil pipe, and because of the live video feed, you can watch this procedure take place 5000 feet deep in the Gulf of Mexico in real time.
Even though it appears that there is a seal in place, oil continues to gush out of the busted pipe.  Earlier I wrote about how some of the gushing oil looks to be channeled through a pipe. This looks like BP is preparing the system of pipes to actually channel the gushing oil along up to barges where the oil can be captured, stored, and reserved.
Here's the new BP live oil spill feed: