BP Gulf Oil Spill Update – Seal In Place, Live Oil Spill Feed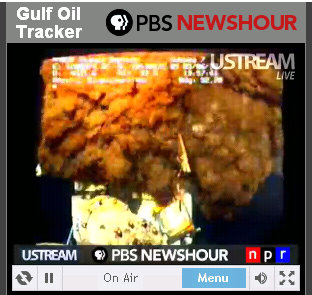 The BP oil spill in the Gulf of Mexico has become the largest oil spill disaster in history. Massive amounts of oil has been gushing into gulf by the second, and BP has been receiving unprecedented pressure from both the public, and the federal government. On top of this pressure is the complexities of trying to contain a massive oil rush 5000 feet below the ocean surface.
BP gulf oil spill update
Yesterday BP announced what has been perhaps the best news so far since their oil well exploded and broke the pipe that is now gushing oil into the gulf. BP announced yesterday that "oil and gas is being received onboard the Discoverer Enterprise following the successful placement of a containment cap on top of the Deepwater Horizon's failed blow-out preventer (BOP). This follows the cutting and removal of the riser pipe from the top of the BOP's lower marine riser package (LMRP)", according to BP's most recent press release.
BP Oil Spill Live Feed
By the looks of the live feed, it is evident that there is a lot of work to be done in the new sealing process of the broken oil pipe. The video below, as you can see, is showing oil still gushing from the pipe.
However, BP is announcing positive progress in an otherwise complex disaster.