XBOX 360 Slim – Leaked Images Of XBOX 360 Slim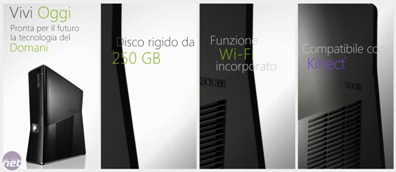 Apparently there are leaked images of an unannounced XBOX 360 Slim gaming console from Microsoft. The leaked and images, and associated news, state that Microsoft is planning the release of a new gaming XBOX gaming console called the XBOX 360 Slim.
The news and images of the XBOX 360 Slim were supposedly leaked from an Italian website called ConsuleTribe.
There has not been formal announcement from Microsoft regarding the new XBOX 360 Slim gaming console – at least not that I can find anyway. However, according to the leaked news and information surrounding the matter, an official announcement is expected later this week at E3.
No price points or release dates have been leaked for the Xbox 360 Slim, but the adverts do claim that it will come with a 250GB hard drive and built-in WiFi. It'll be smaller or slimmer too, obviously.
As a product from Microsoft, the XBOX 360 gaming console has been one of the more successful ventures that Microsoft has had recently. After multiple failed releases of mobile phones and mobile operating systems, the XBOX 360 gaming console is definitely a highlight in the Microsoft portfolio.