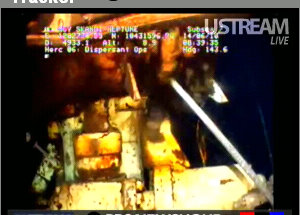 BP Gulf Oil Spill Update, Live Oil Spill Live Feed
The rumors of BP suspending their stock dividend are growing as the oil continues to gush from the broken BP oil pipe, and President Barack Obama relates the crisis to that of 9/11.
As you can tell from the BP live oil feed video below, it appears that BP is capturing more of the gushing oil from the broken pipe. The amount of oil being collected from the gushing oil pipe is increasing as BP today announced that:
"The lower marine riser package (LMRP) containment cap, installed on June 3, continues to collect oil and gas flowing from the MC252 well and transport them to the Discoverer Enterprise drillship on the surface.
In the first 12 hours of June 13 (midnight to noon), approximately 7,720 barrels of oil were collected and 16.9 million cubic feet of natural gas were flared. On June 12, a total of approximately 15,000 barrels of oil were collected and 32.9 million cubic feet of natural gas were flared. The total volume of oil collected by the LMRP cap system since it began operation is approximately 127,000 barrels. A further approximately 22,000 barrels of oil previously had been collected through use of the Riser Insertion Tube Tool and stored in the Discoverer Enterprise."
[source, BP.com]
President Barack Obama calls oil spill equivalent to 9/11 attacks.
President Barack Obama said in a White House interview by Politico that the BP oil spill is comparable to the September 11 attacks on the World Trade Center as it relates to the impact that it is having on our nation.
The President said that, when looking at the fact that the BP oil spill crisis came out of nowhere, and was unexpected, and that the crisis will have a long term impact on our country – long after the crisis has passed – these events are comparable to the 9/11 attacks.
"I think he's off-base," said ex-FDNY Deputy Chief Jim Riches, whose son died at the World Trade Center. "These were terrorist attacks, these 9/11 murders, not something caused by people trying to make money" – according to the NYDailyNews.com.
Will BP Suspend their stock dividend
Finally, it is being discussed on CNBC this morning that BP is apt to suspend their stock dividend. The cost, and the global impact of the oil spill, is having a dramatic impact on BP's bottom line. And obviously, this is literally billions of dollars that BP was not expecting to pay out.
The BP suspension of their dividend is not expected to happen today.
BP Oil Spill Live Video Feed