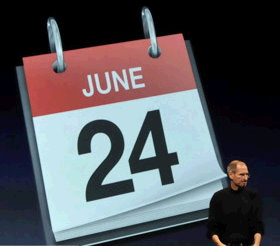 iPhone 4 Ship Date Pushed Back to July 10th? (iPhone 4 Supply Shortage Rumor)
Someone made a comment on one of my iPhone 4 articles that they just left an AT&T store after pre ordering their iPhone 4 and they were told that Apple pushed the shipping date of the iPhone 4 back to July 10th.
The anticipated shipping date for the iPhone 4 has been, since the iPhone 4 announcement, June 24th. And nothing that I've seen since then has changed to make anyone think otherwise.
But again, someone just posted the comment that they were told by an AT&T store rep that the iPhone 4 ship date has been pushed back from June 24th to July 10th.
No Supply issues reported for the iPhone 4
Apple has taking a much different approach this time around with the iPhone 4. They have opened up the distribution channels for the new iPhone 4 to beyond just AT&T. Stores such as Wal Mart, Best Buy, Radio Shack, and multiple stores throughout the UK, are all onboard to distribute the new iPhone 4.
And there has been no mention from Apple, up to this point, to raise a red flag on supply side issues.