Jordan Farmar Dunk, Lakers vs Celtics Game 6 NBA Finals (Video)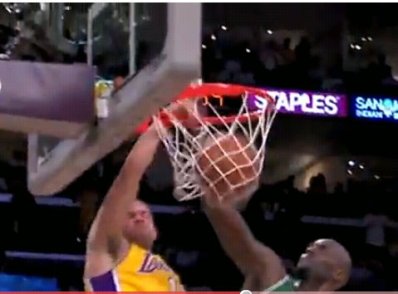 The Lakers were on fire tonight in Game 6 of the NBA Finals against the Boston Celtics. I'm guessing that Kobe Bryant basically chewed out his teammates by telling them that if he has to carry the team, then you don't deserve to be called champions. And how true it is…
Kobe Bryant, although he had a spectacular night, was not the only one scoring and driving the Lakers to a dominant victory tonight. The load was carried across all the Lakers players, from starters all the way to deep into the bench.
The Lakers were playing with an intensity that the Boston Celtics just could not contend with, and if they play like this on Thursday night, then it will be lights out for the Celtics.
Jordan Farmar dunks over KG Kevin Garnett
Perhaps one of the most exciting plays of the night during Game 6 of the NBA finals when Jordan Farmar slammed dunked over Kevin Garnett. Farmar took it straight to the hoop without hesitation and KG couldn't do anything but watch.
Here's the slam dunk video of Jordan Farmar: