iPhone 4 Pre Order, July 2nd New Ship Date for iPhone 4 Pre Orders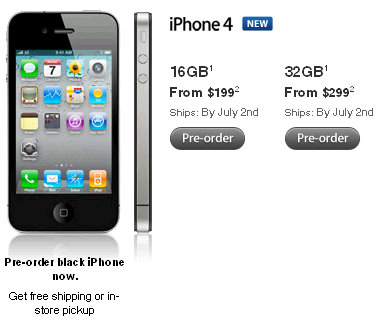 If you are still rushing to pre order your iPhone 4 so that you are guaranteed a hands on date of June 24th, you might want to put on the brakes and take a read.
The Apple store website has updated their information and the iPhone 4 ship date has been updated to read "Ships by July 2nd". And that is the same for both the 16GB and the 32GB iPhone 4 pre orders.
The AT&T and Apple chaos that unfolded today with the pre order of the iPhone 4 has caused a lot of people to actually hate AT&T even more than they did before. And for those who have been waiting, and perhaps even staying up going on 24 hours now, only to see that the ship date for pre orders has been pushed to July 2nd are not very happy campers right now.
There was even a rumor earlier today of a July 10th iPhone 4 ship date. This came from someone who sent me a message telling me they just left an AT&T store and was told that the iPhone 4 may not actually arrive until as late as July 10th.
But the July 2nd date is solid since this is what is actually printed on the Apple store website.