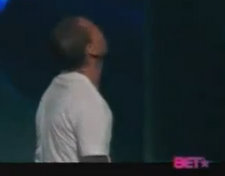 Chris Brown, Michael Jackson Tribute, BET Awards 2010 (Video)
On the 1 year anniversary of Michael Jackson, the world has stopped to remember the music, the life, and the impression that Michael Jackson made on the world.
One place this was done in grand fashion was at the 2010 BET Awards.
Chris Brown lead the performance of the Michael Jackson tribute performance, and emotions were just too much for him to continue with the performance.
So Chris Brown just walked around and felt what everyone else in the world feels – loss, remorse, and mourning over the death of such an iconic performer – Michael Jackson.
Tributes to Michael Jackson were popping up all over the world and security had to be posted at the Jackson's home and the tomb stone of Michael Jackson.
Below is the full video of Chris Brown's 2010 BET Awards performance and tribute to Michael Jackson: