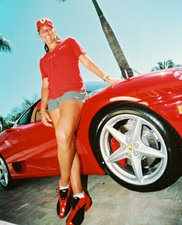 Jennifer Capriati News – Jennifer Capriati Hospitalized (Drug Overdose)
TMZ has broke the news about former teen tennis sensation Jennifer Capriati being rushed to a hospital late Saturday night or early Sunday morning in South Florida. The call for paramedics came from an unknown party at a hotel in Riviera Beach, Florida. Jennifer Capriati was then rushed to a nearby hospital for treatment. TMZ is also reporting that they did speak with Jennifer Capriati's father who reported that Capriati is doing well and recovering from the incident.
Capriati won 14 career titles, including three Grand Slams. She also won a gold medal at the 1992 Olympics.
Jennifer Capriati has a history of making the headline news over the years. Here's more from LimeLife.com:
"Capriati burst onto the tennis scene at the age of 14 when she became the youngest ever to reach a tour final. Two months later, in 1990, she became the youngest-ever semifinalist at the French Open.
In her career she won three Grand Slam singles titles — two Australian Opens in 2001 and 2002 and the 2001 French Open — one doubles title and an Olympic gold medal."
Meanwhile Capriati hasn't competed since 2004 and has said that she felt a lot of pressure after her early career achievements to keep up the success. Also, surrounding a period of surgeries for her joints, Capriati admitted to the New York Daily News that she suffered symptoms of depression and often had suicidal thoughts. She said, "When I stopped playing, that's when all this came crumbling down. If I don't have [tennis], who am I? What am I? I was just alive because of this. I've had to ask, 'Well, who is Jennifer? What if this is gone now?' I can't live off of this the rest of my life."