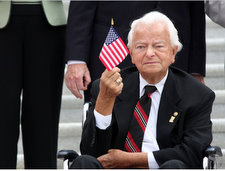 Senator Robert Byrd Dead – West Virginia Governor The Replacement?
The longest serving Senator in United States history – Senator Robert Byrd – has died at the age of 92. Senator Robert Byrd has served more terms in the US Senate, cast more congressional votes, and has been in leadership over more controversial issues than any other Senator in US history.
Senator Byrd was taken to the hospital last week as it was feared he was suffering from symptoms of heat exhaustion and severe dehydration as temperatures in the Washington area approached 100 degrees.
Initial reports were that Senator Byrd would only have to remain hospitalized for a few days. However, doctors started to report "unexpected" conditions arising in the Senator's condition.
At approximately 3am on Monday, June 28 2010, Senator Robert Byrd was pronounced dead.
Senator Byrd has been serving in the United Senate since January 1959 as a democrat.
From a political standpoint, Senator Byrd's absence presents a challenge to the Democrats with key votes coming in the financial overhaul bill and other battles looming in the Senate.
The Democrats do not want to find themselves short handed with it's time to vote, especially with mid term elections coming as well. The Democrats are going to need all the help (and all the votes) they can get.
Senator Robert Byrd Video