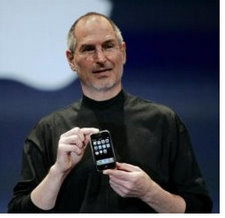 iPhone 4 Update – The iPhone 4 Recall Tweet Is Fake?
Is it real, or is it fake?  There has been a tweet (Twitter update) from what is said to Steve Jobs, that a possible iPhone 4 recall is on the way. Here's the tweet that is creating the iPhone 4 recall buzz:
"We may have to recall the new iPhone. This I did not expect."
Some people are claiming that this tweet originated from Steve Jobs himself, but these rumors started late last night (Saturday night). But by Sunday afternoon, the tweet that was supposedly from Steve Jobs is now being speculated that it the tweet is actually from a fake Steve Jobs' Twitter account.
I have not been able to find the actual tweet, or the Twitter profile that is generating all the buzz.
What's causing the iPhone 4 recall rumors?
No sooner did Apple release the iPhone 4 on June 24th when the web started buzzing about iPhone 4 problems. One of the main iPhone 4 complaints has been related to signal dropping after you hold the iPhone 4 (or grip it) along the metal bands on both sides of the device.
So are these iPhone 4 recall rumors true or fake?
It will be interesting to see how this unfolds…