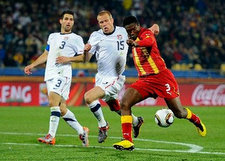 USA vs Ghana – USA Loses to Ghana 2-1 in 2010 World Cup
The USA came into the match with a full head of steam, ready to carry on with the momentum gained from the previous match they won in glorious fashion. However, Ghana stayed in the game and ended up with the win.
Ghana seemed to be using strategies that are a bit controversial. Toward the end of the extra time, they were using strategies that were wasting time – getting hurt, slow substitutions, etc…
The USA team continued to fight to the end of the match – sending the ball into the middle as frequent as possible as the time continued to approach the end of the match.
The USA team was hoping for just one more miracle as time expired.
There is a lot to be proud of from the USA team. Amazing comebacks, silencing critics, and making it to the final 16 shows that the USA was a formidable competitor during the 2010 World Cup.
So the US needs to be proud of the USA team for fighting as hard as they did, and making it this far in the competition.