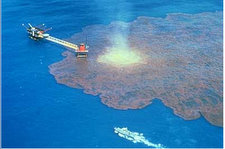 BP Oil Spill Update – A Whale Skimmer Arrives
The BP oil spill recovery efforts are about to get a huge helping hand. An oil skimmer ship called the A Whale has been deployed from a Taiwanese company. The A Whale ship was originally designed to be one of the world's largest cargo vessels to transport crude oil and iron ore. However, since the BP oil spill disaster, TMT (the company that owns A Whale) has modified the ship to become what is now known as the world's first large-scale oil skimmer.
The A Whale arrived in the Gulf on Wednesday and was anchored in Boothville, Louisiana, about an hour south of New Orleans.
Frank Maisano, a spokesman for ship owner TMT shipping, said it is still awaiting approval to join the effort. Allen said the vessel — estimated to be able to skim up to 21 million gallons a day — is awaiting testing. That capacity is at least 250 times the amount that the modified fishing boats currently conducting skimming operations have been able to contain, the company says according to CNN.
BP Oil Continues To Gush into Gufl
As the oil spill continues to gush into the Gulf of Mexico, there is now the first hurricane of the season – Hurricane Alex – to deal with. And the weather from the hurricane is now directly impacting the relief and recovery efforts of everyone involved, barred one.
The only relief effort in the gulf that is not hindered by the hurricane is the drilling of the relief well. BP's relief well, which will supposedly allow the gushing pipe to be shut off completely, is not affected by the hurricane weather and is still on schedule to be completed by August.