BP Oil Spill Update – A Whale Skimmer Begins Open Water Testing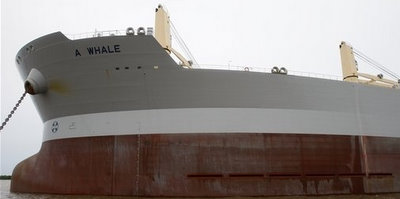 Today might be a big day in advancing the cleanup efforts of the BP oil spill. The massive container called A Whale arrived earlier this week in the Gulf of Mexico.
The A Whale skimmer was originally designed to be a cargo ship, however once the BP oil rig exploded and oil began gushing from the broken pipe, changes were made to the configuration of the ship for skimming and cleanup.
According to the AP, the vessel will cruise a 25-square-mile test site through Sunday, according to TMT Shipping, the company that created A Whale by retrofitting an oil tanker after the explosion sent millions of gallons of crude spilling into the Gulf.
The U.S. Coast Guard, along with BP, are waiting to see if the vessel, which is 10 stories high and as long as 3 1/2 football fields, can live up to its makers' promise of being able to process up to 21 million gallons of oil-fouled water a day.
The ship works by taking in water through 12 vents, separating the oil and pumping the cleaned seawater back into the Gulf. "In many ways, the ship collects water like an actual whale and pumps internally like a human heart," TMT spokesman Bob Grantham said in an e-mail.
A Whale is being tested close to the wellhead because officials believe it will be most effective where the oil is thickest rather than closer to shore.
Will the A Whale Ship Work?
Unfortunately, the A Whale ship will have to be approved by the United States government in its ability to process and cleanup oil before it can begin working extensively in the Gulf of Mexico.
I'm of the opinion that if the A Whale ship works, even just a little bit, then it's something we can not turn away – every little bit helps, and obviously, the Gulf region needs all the help it can get.