Spain vs Paraguay – Spain Beats Paraguay, Advances to World Cup Semi-Finals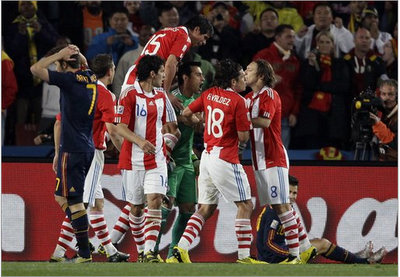 David Villa scored in the 83rd minute to give Spain a 1-0 win over Paraguay and its first spot in the semifinals.
The battle was hard fought between Spain and Paraguay, with ultimately Spain coming out on top 1-0.
From the AP, David Villa took the tournament scoring lead with his fifth goal, which banked in off both posts in the 83th minute. The goal finished off a brilliant, three-way passing combination that typifies the way the European champions like to play. It sent Spain into the World Cup's final four for the first time in 60 years.
Spain faces Germany on Wednesday in Durban in a reprise of its 1-0 victory in the Euro 2008 final.
One night after penalty kicks decided Uruguay's shootout win over Ghana, they were critical in Spain's victory.
A somewhat subdued match suddenly became chaotic in a two-minute span of the second half. Gerard Pique pulled down Paraguay's Oscar Cardozo in the penalty area on a corner kick, earning a yellow card and giving Cardozo a penalty kick.