Serena Williams Wins Fourth Wimbledon Title
Serena Williams has just won her fourth Wimbledon title in easy fashion against Vera Zvonareva of Russia on Saturday. This win, her 13th Grand Slam title, has just moved Serena Williams ahead of Billie Jean King on the all-time career Grand Slam title list.
Serena Williams served 89 aces in seven matches, including nine in the championship, to absolutely dominate her opponents during the Wimbledon tournament.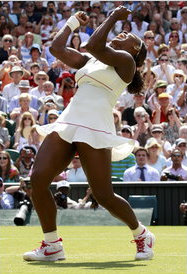 According to the NYTimes, Williams has now matched her exact Grand Slam results of last season by winning the Australian Open, losing in the quarterfinals at the French Open and storming back to win Wimbledon.
By winning her 13th Grand Slam title, Serena Williams moved into sixth place on the women's all-time Grand Slam singles list. She surpassed Billie Jean King (who had 12) and moved a little closer to modern-day icons. Australia's Margaret Court still owns the record, with 24, which she won from 1960 to 1973. Steffi Graf is second with 22, winning her final Grand Slam title at the French Open in 1999. California's Helen Wills Moody won 19 from 1923-1938. Chris Evert and Martina Navratilova are tied with 18 singles titles apiece.
Wimbledon Men's Final
Rafael Nadal defeated Murray yesterday in impressive fashion to advance to the men's final at Wimbledon. Nadal was seeded #2 coming into Wimbledon but is now ranked #1 in the world.
His opponent in Sunday's final will be 12th-seeded Tomas Berdych of the Czech Republic.