Brock Lesnar vs Shane Carwin – UFC 116 Fight Video (Full Fight Video)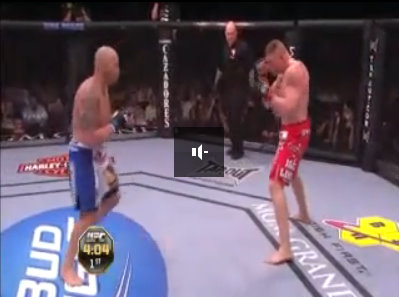 Some amazing things happened during the UFC 116 fight between Brock Lesnar and Shane Carwin. Mostly the fact that Shane Carwin did not actually knock out Lesnar in the first round. The punches from Carwin were raining down on Lesnar and in most fights, I would say that the ref would have actually called the fight. But because it was the heavyweight championship fight, my guess is that the instructions to the ref was to let the fight go until someone was completely unresponsive (knocked out cold) – otherwise, just let them keep fighting.
I've been able to find only one place online where you can actually watch the entire fight between Lesnar and Carwin. Unfortunately, the video is not able to be embedded so I can't put the video here.
So instead, click the link below and you'll be able to watch the full fight of UFC 116 between Brock Lesnar and Shane Carwin.
Full Fight Video of UFC 116 – Brock Lesnar vs Shane Carwin