Lindsay Lohan Sentenced To Jail, Cries To Judge & Twitter (Watch Video)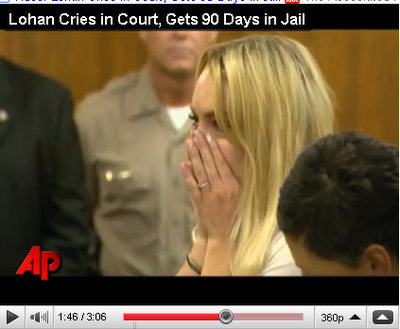 Lindsay Lohan was sentenced to 90 days in jail today by a judge who apparently has had enough of Lohan's excuses.
The judge sentenced Lindsay Lohan to 90 days jail time followed by a 90 day in patient rehab program for violating her probation on a previous DUI case.
Lindsay Lohan Cries in Court when jail sentence is issued:
After the judge issued the sentence, Lindsay Lohan was given an opportunity to speak and address the court. She proceeded with apologizing to the court and that she thought she was honestly fullfilling her probation obligations. The whole time she was speaking, she was weeping and crying.
Lohan must surrender to the court at 8:30 am on July 20th, 2010 to begin serving her time.
Lindsay Lohan's Twitter profile
You can typically follow Lindsay Lohan and her thought closely on her Twitter profile.
However, since the judge issued her sentence, there has only been a request for some of her friends to come over to her apartment – nothing else has been mentioned on Lindsay Lohan's Twitter profile about the jail sentence.