LeBron James To Announce Decision on ESPN, Thursday @ 9pm EST (Video)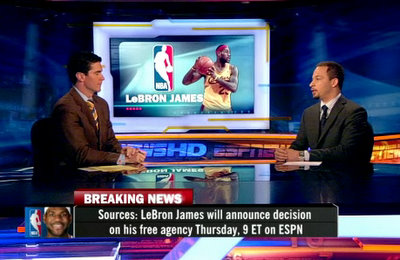 News is breaking from ESPN that LeBron James will air a 1 hour special exclusively on ESPN this coming Thursday @ 9pm EST at which time he will announce his decision as to what team he will be signing be.
The news broke as representatives from the LeBron James camp contacted ESPN requesting this 1 hour interview / special program, and have promised ESPN that LeBron James will make his announcement during this 1 hour program.
ESPN is also reporting that the sponsorship and proceeds from this 1 hour program will all go to the Boys and Girls Club of America.
Here's the ESPN video announcing the breaking news: