Did Lebron James Mom, Delonte West Affair Keep LeBron From The Knicks?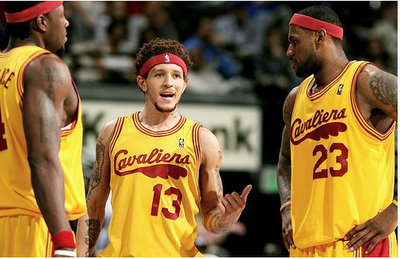 Rumors are spreading that the affair between LeBron James' mom and Delonte West is one of the main reasons why LeBron James did not chose the New York Knicks.
ESPN host Colin Cowherd said on his radio show today that Gloria James has been involved in a potentially embarrassing situation; a situation that Cowherd claims the New York Post was set to report on before being 'begged' not to by representatives of LeBron.
Cowherd said that he was prohibited by his network, ESPN, from discussing the specifics of the situation. He said only that New York Post writers had staked out Gloria James' house and presumably had embarrassing information concerning her. Cowherd's take on it was that James realized that living life in the big city fishbowl that is New York City would have created too much of a risk of embarrassment for him and his mother, with whom he is very close. Cleveland media, on the other hand, is much more protective of its local athletes.
[source: Associated Content]
Although during Lebron's 1 hour show last night, he made a great argument that the only reason he chose the Miami Heat as his home team is because he wants to win a championship.
His exact quote was, "the only reason we are in this business is to win championships."
And above and beyond money, rumors, affairs, and anything else that people are talking about, I'm convinced that LeBron simply wants to win the coveted NBA Championship ring – multiple rings if possible. And right now, the Miami Heat gives him the best opportunity to make that happen.