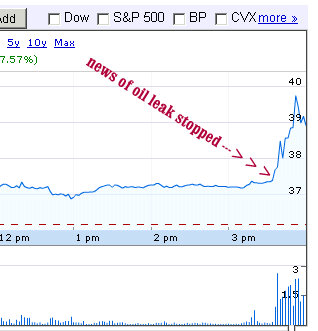 Following the news that BP has successfully stopped their busted oil well from gushing oil into the Gulf, BP PLC shares have been surging on the NYSE.
At around 3:30pm, BP PLC (NYSE:BP) shares started to surge on the NYSE. This is obviously the time frame that word about the successful stoppage of the oil leak was hitting Wall Street.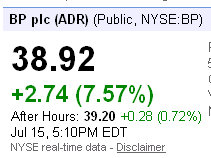 Today already, BP PLC shares are up currently +2.74 (7.57%) at 38.92 at the time of this writing.
Now the only question is whether or not the oil pipe valve that BP has in place will hold back the oil pressure, or if another leak will be created somewhere along the pipe line.
Regardless, this is a great day in the battle of stopping the oil from gushing into the Gulf of Mexico. Oil has been spewing into the gulf since April 20th at a rate of around 2 million gallons per day.
Stay tuned for more BP oil spill updates.