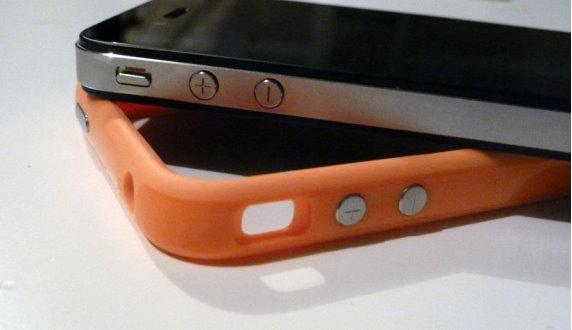 Coming straight from Consumer Reports, the same people who DID NOT recommend people purchase the iPhone 4, is the same people who proved that the iPhone 4 antenna issue is resolved when using an Apple iPhone Bumper case.
The Consumer Reports test of the iPhone 4 with the Bumper case concluded that with the Bumper case, the antenna and loss of signal issue is nearly 100% mitigated. So Consumer Reports said the iPhone 4 with the Bumper case is fine, but said that consumers should not be the ones who have to fork over the $29 for the Bumper case.
Well everyone, guess what? Steve Jobs said today during his special iPhone 4 press conference that anyone with an iPhone 4 can get a free Bumper case. And if after 30 days from when you purchased your iPhone 4 if you are still not satisfied that you can return the iPhone 4 for a 100% refund.
The free iPhone 4 Bumper case offer is good through September 30th, 2010.
Otherwise Steve Jobs, and the entire Apple team are, and I quote from Steve Jobs…. "working their butts off to fix the iPhone 4 issue."
So there ya' go Consumer Reports, you got what you were looking for – free iPhone Bumper cases for all iPhone 4 owners.
Oh yeah, the next time you offer a review and find a problem, maybe you should follow up with the fact that the problem you found is applicable to only a small fraction of the products that are actually on the market… just a thought.