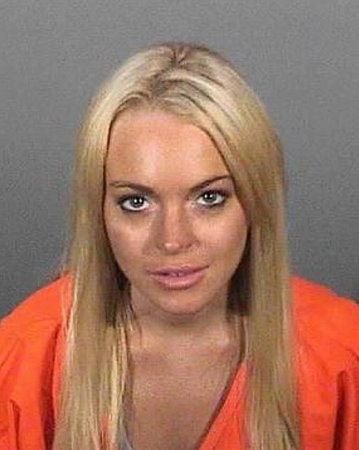 Lindsay Lohan showed up today in circus fashion, walked into the Beverly Hills court room, got busted down by the judge and ultimately surrendered to the court to start her 90 day prison sentence.
Except the thing is, LA jails are full to the tilt and don't really have the space to mess around with people like Lindsay Lohan. So the projected release date for Lohan is now at two weeks, according to Steve Whitmore, an L.A. sheriff's spokesman.
According to her booking sheet, Lindsay checked in at 5′6″ and weighs 118 lbs.
The last time Lohan went to jail, in fact the exact same jail, she spent a total of 78 minutes confined.
So we'll see how this imprisonment goes for Lindsay's.
Here's Lindsay's current mug shot taken today, and the previous one take in 2007 – which one do you think shows a healthier, more stable Lindsay Lohan?