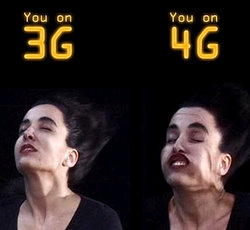 The race to 4G dominance is a fast and furious one. Sprint has been leading with the Sprint 4G network and the first 4G mobile phone – that being the HTC EVO 4G. But just because Sprint was first, doesn't mean they will be the last…. not by a long shot.
Info has been leaked to Engadget that Verizon may have their 4G data network in place, and launched by this Christmas – November 15th to be exact. The 4G launch from Verizon will more than likely come in the form a USB data card for your laptop, or even your home computer.
Even though Sprint has been the first to arrive with 4G, they've struggled with the expansion of the 4G network to major metro areas. When Verizon launches their own 4G network, it is expected that more cities will be covered than all of Sprint's areas combined up to this point.
Last but not least, this race by mobile phone carriers to 4G dominance may all be for nothing when the LightSquared 4G satellite covers the entire US continent!