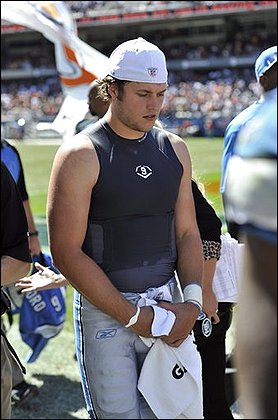 It only took about a quarter and half for the Chicago Bears defense to knock Matthew Stafford out of the game completely.
Chicago defensive end Julius Peppers landed a direct hit on Stafford during the second quarter of play that knocked him out of the game with a right shoulder injury.
Stafford struggled with a shoulder injury toward the end of last season as well and the hopes of Stafford being the knight and shinning armor of Detroit may be waning a bit for the fans.
The one quarterback who they'd hoped would lead them to victory is spending more time injured than he is winning games.
What do you think about Matthew Stafford as the Detroit Lion's quarterback?
via WashingtonPost