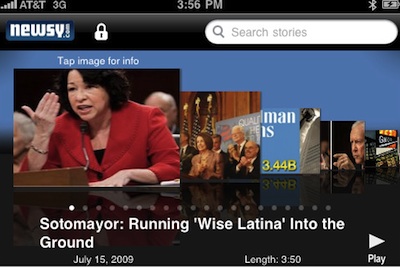 Newsy.com is set to announce their Blackberry App tomorrow, October 13th, through their news release channels. But you get a first glance of the Newsy.com for Blackberry app right here at SMSEO!
Newsy.com is already a hugely popular app for the iPad, iPhone, and Android smartphones. Primarily, Newsy offers news and content through video, allowing you to experience news on the web and your mobile device through video instead of text.
Here's the press release that is coming from Newsy.com tomorrow about their Blackberry App:
Newsy.com Releases App for BlackBerry Users
Multi-source video news analysis application available to download for free from BlackBerry App World
Columbia, MO – October 13, 2010 – The Newsy for BlackBerry app version 1.0 is now available to download for free from the BlackBerry App WorldTM. Offering users easy mobile access to Newsy.com's unique multi-source news videos, the app is specifically designed to utilize the features and navigation of the BlackBerry Curve, Torch, Tour and Storm phones.
The free application's simple, clear interface is easy to use – users can
watch the latest Newsy.com multi-source news videos in just two clicks.
Updated instantaneously with the website, the app allows users to
browse videos with the easy-to-navigate interface or search specifically with keywords.
Newsy.com is the only multi-source, multi-platform video news service
producing daily short videos that analyzes the differences in how a story is
being reported by various news organizations.
"In addition to the enormous success of our iPad, iPhone and Android apps, we continue to meet mobile users' demand for quickly understandable and relevant video news with the Newsy for BlackBerry app," said Jim Spencer, president of Newsy.com. "We're bringing Newsy's superior mobile experience to a much wider audience."
The Newsy application allows users to share videos via Twitter, Facebook
and email as well as read and post comments – which are immediately synced
with the website. It also features a 'Sources' button that enables easy
access to the specific news stories analyzed in a Newsy video.
Offering fresh snack-sized videos including world, business, sports and entertainment, the Newsy for BlackBerry app is a perfect fit for the growing number of BlackBerry users around the world seeking on-the-go news.
Committed to leading innovation in the online and mobile video news market, Newsy.com will continue to develop apps for emerging platforms like Apple TV, Google TV as well as for new mobile tablet devices.
The Newsy for BlackBerry app (minimum BlackBerry OS v5.0 required) is available for free download from the BlackBerry App World:
OR
http://appworld.blackberry.com/webstore/content/15122
Users can follow this link on desktop or BlackBerry browsers.
Download the Newsy for iPad app for free here:
Download the Newsy for iPhone app for free here:
http://bit.ly/newsyforiphonebb
Download the Newsy for Android app for free by searching for Newsy in the Android Market.
About Newsy
Newsy ( http://www.newsy.com ) is a multisource video news service that analyzes the world's news coverage and highlights the key differences in reporting. Through short videos available on the web and mobile devices (iPhone, iPad, BlackBerry, Android-based smart phones and Intel Atom-powered netbooks), Newsy accelerates the understanding of how a news story is covered.
Known for it's hugely popular apps for iPad, iPhone, Android, and Intel Newsy's latest app includes both unique and familiar features. I hope you will consider reviewing the Newsy.com App for BlackBerry. Please contact me if you have any questions or would like to speak with Newsy.com President Jim Spencer.
—-
Thoughts?