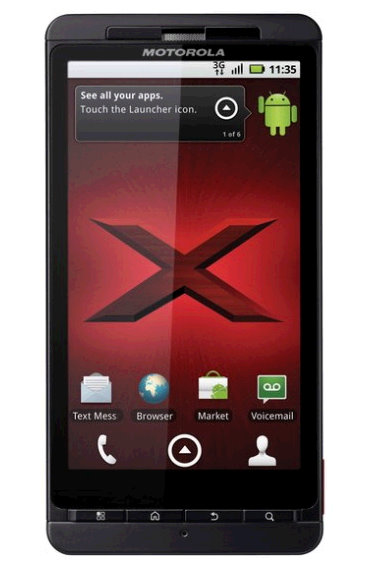 The Motorola Droid X has been one of the best selling Android smartphones in the US since Android was released. Verizon has dominated the Android smartphone market as a result of the Motorola Droid X and the Droid 2.
The Motorola Droid X is now set to be released in Mexico as the Motoroi X sometime before the end of 2010.
The Motoroi X will be the first Android 2.2 smartphone released in Mexico, and is expected to receive the Android Froyo update sometime this month. IUSACELL will be carrying the Motoroi X and is the third largest cell phone provider in Mexico.
No pricing information is available yet.
Here's the press release from Motorola on the Motoroi X:
Motorola and Iusacell in Mexico bring MOTOROI X: the first Smartphone with Android ™ 2.2 and a high-definition experience
MOTOROI X offers better Internet browsing, connectivity, high definition video and business functions, all in a 4.3 inch screen
MEXICO CITY, Mexico – November 9, 2010 – Motorola Mobility, a subsidiary of Motorola, Inc. (NYSE: MOT), and Iusacell today introduced the Motorola X MOTOROI. MOTOROI X offers a better experience thanks to its ultra-fast Web browsing, 1GHz processor speed, the functionality of becoming a 3G HotSpot, excellent memory and social messaging intuitive abilities. The device is also compatible with Adobe® Flash® Player 10.1 and gives access to Android Market ™ with more than 100 000 applications, in addition to Ubicacel Copilot.
"We have a strong commitment to our customers to provide the best experience Android on the Iusacell network," said Ernesto Alegrett, Marketing Director of Iusacell. "Thus, we have focused on bringing to Mexico currently leads Android phone the market: Motorola X MOTOROI. This equipment allows Iusacell to offer its customers a unique phone with wireless connectivity and multimedia experience in HD through the powerful Iusacell's 3G network. "
José Luis de la Vega, Director of Marketing for Latin America at Motorola Mobile Devices said, "With MOTOROI X, Motorola reinforces that there are no limits on innovation in Android. We break down the barriers for users to experience the Web in the manner for which it was created, sharing and viewing content as never before, either in the palm of your hand or in your home. Business users will also be amazed with the features included in MOTOROI X, such as push e-mail and widgets for calendar updates and email. "
MOTOROI X has a high resolution display of 4.3 inches which allows the user to view the latest video. The video features X MOTOROI enable customers capture their best moments instantly, thanks to its combination of 8-megapixel camera with dual flash, HD camcorder and HDMI and DLNA connectivity to download, transmit and share high-definition personal content.MOTOROI X comes powered with Android 2.2 and Adobe Flash Player 10.1, an application that will allow mobile users to experience hundreds of sites with rich content and applications directly from your browser.
Additionally, it has the social networking service MOTOBLUR, Motorola's unique in its version 1.5. MOTOBLUR, social networking contacts synchronized with the directory, and personal and work email also allows for optimal security to retrieve information or delete with a simple remote command.
Corporate users are able to enjoy the feature push e-mail and widgets capable of conveying messages to the home screen, widgets filtering for the differentiation of work and personal email, corporate directory and search Global together with a unified calendar enterprise-level synchronization with Google Calendar ™. In addition, security protocols allow remote control and elimination password via Exchange Server.
Price and Availability
Motorola MOTOROI X Iusacell will be available from the last quarter of 2010.
X has the capacity MOTOROI 3G Mobile Hotspot that turns your phone into a wireless modem to connect up to a total of five devices via Wi-Fi.
For more information on Motorola's X MOTOROI, check www.motorola.com.mx or www.iusacell.com.mx
About Motorola
Motorola is known around the world for innovation in communications and is focused on optimizing the way the world connects. From infrastructure broadband communications, enterprise mobility solutions and public safety devices wired and wireless digital communications that provide engaging experiences, Motorola is leading the next wave of innovations that enable people, businesses and governments to be more connected and more phones. In 2009, Motorola (NYSE: MOT) had sales of 22 billion dollars. For more information, visit www.motorola.com
via MobileCrunch