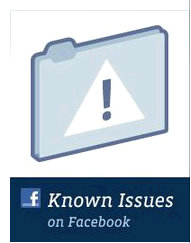 Despite all of the great news and excitement around Facebook's announcement about the new Facebook Fan Page updates, there have been a few issues resulting from the changes.
One problem in particular has been the issue of some admins (Facebook Page admins) getting a blank page after they switched back to their personal profiles from posting as their page.
The new Facebook Fan Page allows admins to switch from posting as their personal Facebook profile to posting as their Page.
This allows admins more flexibility to responding to users directly as the page itself.
But some admins report, after switching back to their profile, receiving nothing but a blank page.
As of this moment, Facebook hasn't issued an update saying the problem has been resolved.
Have you noticed this problem while switching back to your personal profile after posting as a Facebook page?