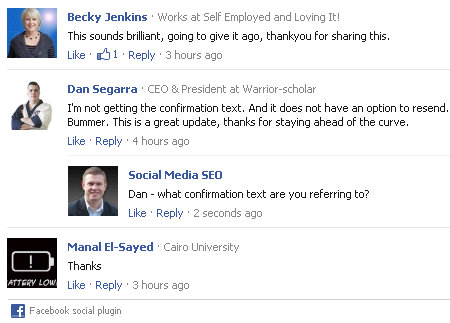 I'm gonna be completely honest with you here – Facebook is about 1 small step away from me ditching my current commenting system that I use here at SMSEO which is Disqus.
You can see already at the bottom of this article that I've placed Facebook's comment box above my Disqus comment box.
And for anyone that see the relevance of the new Facebook commenting system, I'd have to believe they would feel the same way as I do.
The only missing piece keeping me from ejecting 100% from Disqus is that I can't figure out how to receive notifications of comments from the Facebook comments box.
There is a way to do it – I know… it's just I haven't been able to figure it out yet.
Will Facebook kill all other commenting systems
This makes me think on a larger scale, how can other commenting systems compete against Facebook?
I mean, Facebook comments are now ranked by EdgeRank, which means only the most active and relevant comments are seen at the top. Plus, when you are logged into Facebook – which most people are all the time anyway – you'll see any comments that your friends have made first.
This brings order and relevance to comments.
No longer do comments – or discussions, dialogue, conversations – need to be ordered according to "most recent", or "ascending / descending" order.
That's completely wiped off the table.
Now  you get comments ranked according to relevance – so the garbage no longer gets seen.
In fact, users can simply mark a comment "Spam" and that just about guarantees that no one will ever see that comment again.
Viral distribution of comments
Not only does Facebook comments bring order through EdgeRank – the Facebook algorithm that brings relevance rankings to streams – but it also delivers massive distribution and exposure to the site upon which the comment box resides (i.e., your website, blog, etc…).
What other commenting system naturally syndicates comments on such a large scale?
For example, I have over 4,000 fans on my SMSEO Facebook page – when I simply reply to a comment via the Facebook comment box, I just opened the door to 4,000 other people to enter the conversation.
Anyway, I'm thinking that once I figure out how to get my Facebook comments notification working, that'll be it for Disqus and any other commenting system.
Thoughts?