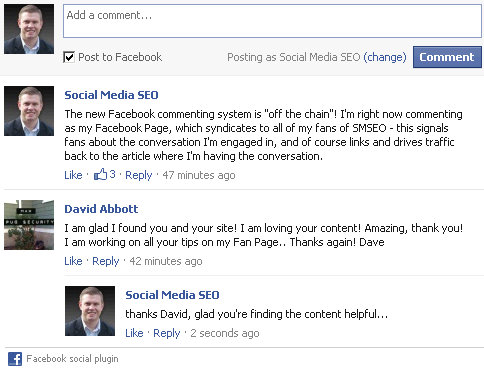 At around 12 noon EST time today, while you (and I) were out having lunch, Facebook was quietly releasing a new commenting plugin.
The new Facebook Comments box (or plugin) is truly designed for one thing, and one thing only – to generate massive viral exposure of conversations, and deep integration of links into the Facebook graph in order to drive high volumes of traffic to referring websites where the comments box resides.
Get the new Facebook comments plugin here
Why this matters to Facebook Fan Page admins
One of the most amazing features of the Facebook commenting app is that Facebook Fan Page admins can now post comments as the page > the comment will syndicate from that page to all of the fans of the page > and in turn, allows fans of your page to engage in the conversation.
And the whole time, while massive viral exposure is unfolding because of the "commenting as a facebook page", traffic is being driven back directly to the page where the conversation is unfolding (i.e. your blog, your website, your apps, etc…).
Working your website (or blog) in tandem with Facebook comments
I strongly recommend that everyone who has a website, blog, or has some other online presence get the new Facebook comments box integrated into your site ASAP!
Especially if you have a Facebook Fan Page AND a website, blog, or some other web property.
This is huge from a viral marketing standpoint because, as I eluded to above, you now have the ability to post comments as your Facebook Page.
And once you post a comment via the Facebook comment box that is embedded in your site, you are simultaneously posting an update to your Facebook Fan Page, which syndicates out to all of your fans, and drives increasing traffic back to the page where your comment page resides – if this is your website, blog, app, etc… then you are driving all of that traffic to your site.
It's a really big deal!
And it gives businesses with websites and Facebook pages an unprecedented opportunity to gain near unlimited marketing exposure – if implemented correctly.