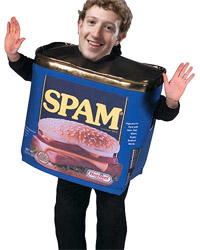 Once again, I'm amazed at how spam is able to run so freely on Facebook.  Over the past couple of days I've been getting hammered by spam, primarily through my chat box. Here are some examples of the spam messages I've been getting:
hey do you know this guy? he said he knows u
i uploaded your picture on my fb pagee http://apps.facebook.com/calilove/photo.php?=720066266
hey nice picture when did you upload this?
I "de-linked" the links because these are not things you need to be clicking. Obviously, this is a rogue app running on Facebook and I've reported it several times. So we'll see what happens.  Again, I'm simply amazed at how freely this spam is running on Facebook.  So has anyone else been seeing this new "picture spam" in their Facebook profile?