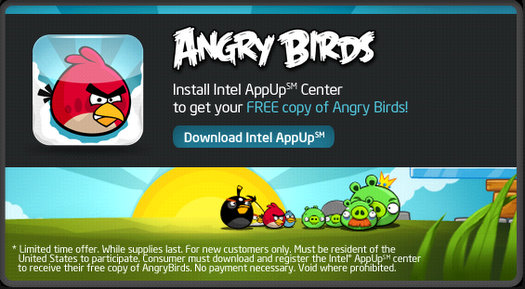 Don't loly-gag here… this is a limited time only (while supplies last) deal – so get to the "how to" below to get your free full version of Angry Birds for your PC.
This is all made possible through the Intel AppUp store, in conjunction with Best Buy.
Here's how you get Angry Birds for free to play on your PC:
1) Click here to download Intel AppUP from the Best Buy website
2) Once you install AppUp, you'll need to set up a free account with Intel for the app store.
From what I've read, if you already have an Intel AppUp account you'll need to either uninstall and re-install the AppUp application in order to get Angry Birds for free, or just simply create a new account.
This means that Angry Birds is free only to new accounts on the Intel AppUp store and (I think) downloaded through Best Buy.
3) Once you've downloaded Intel AppUp and created your new account, go ahead and open the AppUp program from your computer's desktop.
4) Login to the AppUp store
5) You should now be looking at a free Angry Birds download icon, go ahead and click the Angry Birds icon to download and install the game.
Enjoy!