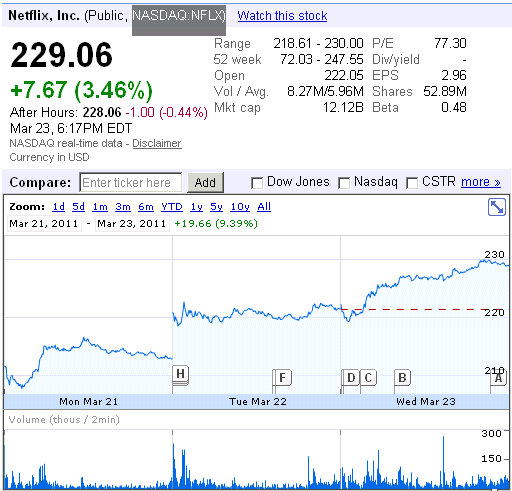 Netflix is a apparently a very fluid machine.
One minute they are focusing exclusively on delivering movies via mail and streaming online, and the next minute they are looking to content.
Well the recent decision by Netflix to shift into content, and potentially launch their own network (think HBO or Showtime), has made some investors uneasy about the future of the stock.
Today on CNBC, one analyst commented that Netflix was making the move into content out of necessity – out the pure fact that Netflix will not be able to sustain a high growth rate under the current business model.
This would obviously be a negative outlook on the long term health of the company.
But despite what some analysts believe to be a negative move by Netflix, the overall market today has been more than happy with company.
Network shares (NASDAQ:NFLX) are up a whopping +7.67 (3.46%) at 229.06.
However, looking at the Google Finance chart of Netflix, shares are dropping in the after hour trading.
It will be interesting to see how Netflix fares tomorrow in the market.