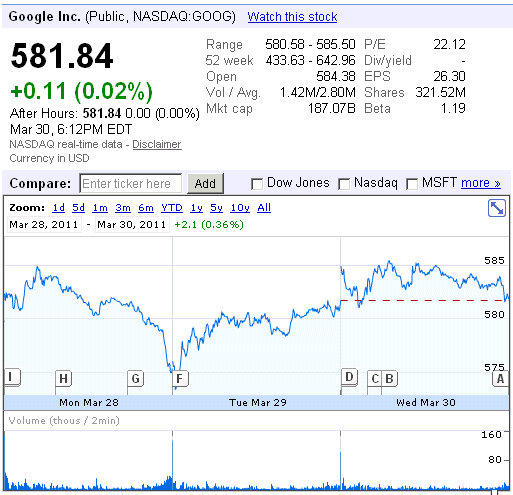 Google had a big day today in the news with the FTC announcing a settlement with Google over the privacy issues resulting from Google Buzz, and also Google's announcement of Google +1.  All of this must have been relatively encouraging news to investors as Google's stock price actually closed in the positive.
Google shares (NASDAQ:GOOG)  closed up +0.11 (0.02%) at 581.84.
Google settles with FTC
From Rueters:  Google Inc. has settled with U.S. regulators investigating privacy problems that cropped up in its botched roll-out of social network Buzz, the Federal Trade Commission said on March 29, 2011. Under the deal, Google agreed to set up a comprehensive privacy policy and to have independent privacy audits every two years for the next 20 years. Under the settlement, if Google makes assertions about how a customers' private data will be treated it must get their consent before shifting to a less restrictive privacy policy.
Google +1
From Google Blog:  Our goal at Google is to get you the most relevant results as quickly as possible. But relevance is about relationships as well as words on webpages. That's why we recently started to include more information from people you know—stuff they've shared on Twitter, Flickr and other sites—in Google search results.
Today we're taking that a step further, enabling you to share recommendations with the world right in Google's search results. It's called +1—the digital shorthand for "this is pretty cool." To recommend something, all you have to do is click +1 on a webpage or ad you find useful. These +1's will then start appearing in Google's search results.
via Google Finance