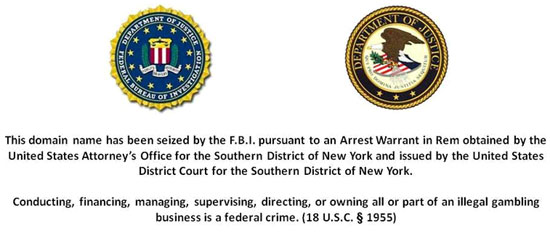 The FBI has seized control of online gambling sites PokerStars.com and FullTiltPoker.com in a sting that has brought down two of the biggest names in online  poker in the United States.
Based on a tips, and perhaps even direct collaboration from within a suspected money laundering operating, the U.S. federal government received information on the people responsible for running these online gambling sites in the U.S.
Preet Bharara, United States Attorney for the Southern District of New York, along with Janice Fedarcyk, Assistant-Director-in-Charge of the New York Field Office of the Federal Bureau of Investigation, unsealed an indictment charging the founders and payment processors for Poker Stars and Full Tilt Poker with multiple illegal gambling charges.
Included in the indictment are over 75 banks throughout the United States who are suspected in helping move the funds associated with the operations.
PokerStars.com currently has an FBI / Government seizure warning message on the front page.
Interestingly though, FullTiltPoker.com is still up and running as of this writing.