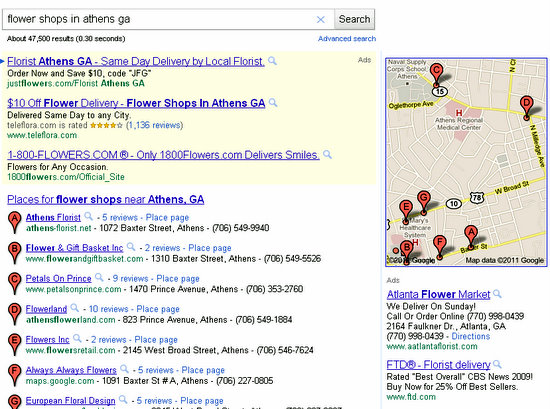 If you're a local business – defined by your revenue coming from local, walk in traffic – then one of the best ways to generate new traffic, and thus revenue, is to have a strong presence in the top search results of Google.
Let's say you own a flower shop in Athens, Georgia.
Millions of people a day use Google to find local businesses that provide the products and services they are need.  So people would be very likely to pull up Google on their desktops, laptops, iPads, and mobile phones and type in a quick search such as:
flower shops in athens ga
(see actual search results here and you'll see what I mean by the importance of Google Places pages)
This is a very common search derivative used by local consumers.  No matter what type of local business you have, just replace "flower shops" with your specific business, and you'll soon be tapping into a huge market of consumers in your city looking for what you offer.
Optimize your Google Places page with images (photos)
I'm going to assumer here that you already have a Google Places page for your local business.  If not, you can read more articles I've written about Google Places page, best Google Places seo practices for higher rankings in Google (which this article complements).
One way to dramatically improve the authority, and thus the rankings, of your Google Places page in Google search results by adding lots of photos to your Google Places page.
When I say "lots of photos", I propose that you add at least 10 – 20 photos of both the interior and exterior of your local business establishment.
Take photos that feature directly outside of your business, the front door, inside and around the interior of business, customers who are in your establishment, your products, smiling employees, etc…
The next step I highly recommend is that you use Google Picasa to edit your images and geo tag your images.
Editing your images with Picasa is actually quite easy.  I'm a huge fan of the two features:  crop & "I'm feeling lucky".
Cropping images in Google Picasa
Cropping your image is important because quite possibly, the image you took, once you upload you it to your computer, needs to be cropped to get rid of the dead space on the edges and to bring visitor's focus directly in on the feature of your business you are attempting to highlight in your photo.
I'm Feeling Lucky
The I'm Feeling Lucky feature is literally one click on the "I'm feeling lucky" button while your image is loaded in the image viewer.
This button enhances your image by either adding more light, or taking away light from your images to make them more vibrant – and it works like a charm!
Geo Tagging your Google Places images
Here's one of, in my opinion, the most important steps in optimizing your Google Places page – and that is, geo-tagging your photos.
Geo tagging your photos is important because each image, from Google's perspective, is it's own unique web property.
And by geo tagging your images – which means adding your exact business location to your images – creates web properties that have actual citations referencing your business.
A Google Places page can become much more optimized, and thus achieve higher rankings, when it have a higher number of citations.
And as I mentioned already, by simply adding photos to your Google Places gives your page more authority as well.
So by geo tagging your photos, you are adding double power to your authority and ranking potential in Google search results.