About a week ago, BusinessInsider released a chart showing that HuffingtonPost.com has surged past NYTimes.com in web traffic.  HuffingPost's unique visitors have topped NYTimes.com unique visitors by nearly 2 million per month – an impressive feat indeed.
One AOL insider put it like this:  "6 years to disrupt 100 years."  Obviously making a comparison between web based content sites and traditional media companies.
Here's the chart: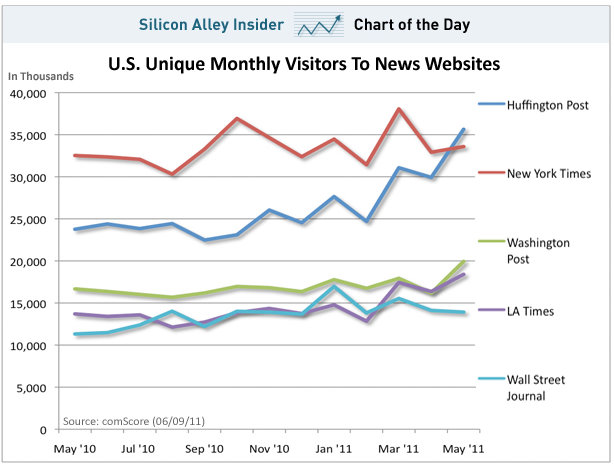 It was pointed out quickly by The New York Times that the surge in traffic at HuffingtonPost.com is attributed to the redirects coming from AOL (remember AOL purchased HuffingtonPost.com earlier this year).
Although that may be true, however you cut it, HuffingtonPost.com is getting more traffic than NYTimes.com – period.
I can't help but also wondering if, on a larger scale, this isn't attributed to the fact that HuffingPost.com allows readers to access their content for free, while NYTimes.com has created a pay wall – meaning, they are now charging to access content via the web.
So is this really a "paid vs. free" content clash that we are seeing, with HuffingtonPost.com and NYTimes.com being at the forefront of the issue?
Thoughts?