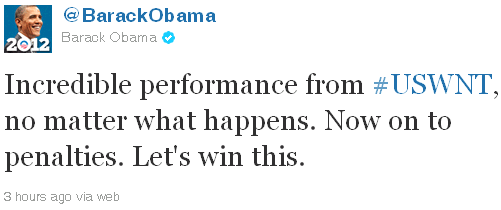 It was a monumental moment in the history of Women's soccer today as the U.S. battled it out with Japan.  In the end, Japan came out on top with the game being decided in a penalty shootout.
There was something else happening during the Women's World Cup soccer match today that ended up setting a new record, and it was taking place on Twitter.
During the Women's World Soccer match a new record of 7,196 tweets per second were generated on Twitter.
Even President Barack Obama joined in on the tweeting frenzy with "Incredible performance from #USWNT, no matter what happens. Now on to penalties. Let's win this."
via CrunchGear