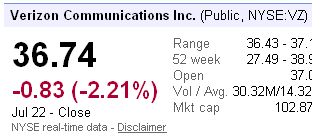 Verizon shares (NYSE:VZ) closed down yesterday 2.21% after Verizon Wireless missed iPhone sales estimate for the quarter.
According to incoming Verizon CEO Lowell McAdam, the iPhone 5 is not expected until the fall, "and I think you will see a significant jump there when we get to that point," said McAdam, whose promotion from COO to CEO was announced also yesterday (via NYPost).
But if that's the case, then wouldn't the same scenario be happening on at AT&T?
You'd think… however, AT&T's iPhone sales are continue to plow ahead at a much faster rate than Verizon's.
Everyone's waiting for the iPhone 5 to hit sometime in September.  The name of the game now is, for AT&T and Verizon, figuring out how to clear out previous iPhone version's inventory.